When we arrived at Indian River, MI. on friday, we easily found the beach and pit area at the race site. The wind was strong and gusty. Sand was being whipped up off the beach and hit me like a sandblaster! I looked out at Burt lake and was stunned! The lake looked brutal! I thought to myself: "Jeff, what have you gotten yourself into?"
(This race is only cancelled on account of lightning)
_______________________________________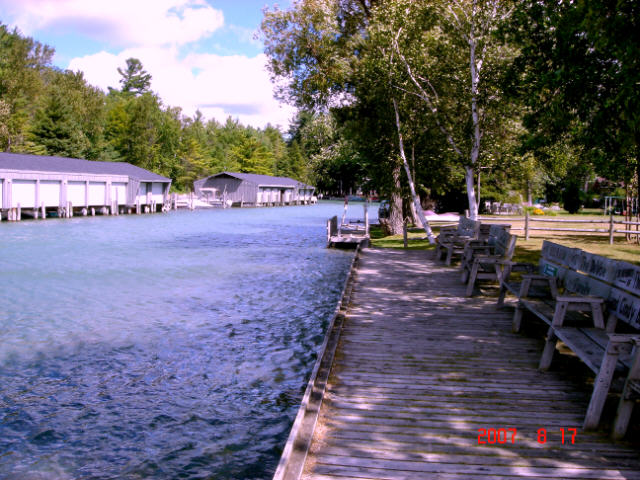 Beautiful Indian River.
My kids with Yogi.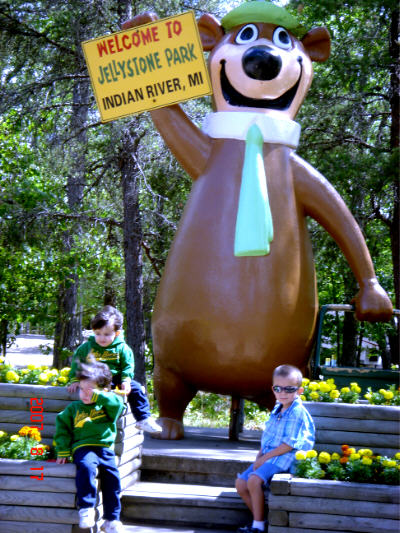 Lani, Shilo, and Jeff jr.
After we dropped off the trailer, we drove over to the campground we had picked out. My wife Mary and I had chosen a
Jellystone park campground.
It was only a few miles from the race site
and was a very nice and clean facility.
____________________________________________
____________________________________________________________
Fortunatly, race day turned out to have fantastic weather!
I was pitted next to Gootz, ( a marathon veteran who also races in the D class ) I was glad to have help from him and Brian ( another member of the Outlaw Race team )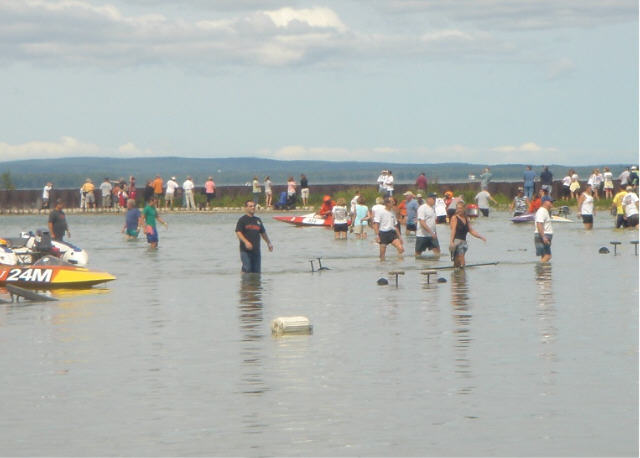 Just minutes before the start of the race,
I worriedly looked around to find Mike Ross.
Mike had told me months before that he would help me out at Top O'.
When Mike first laid eyes on my rig,
he exclaimed: "That Tohatsu looks bad ass on that boat!"
________________________________________________
This photo was taken by the Petosky news-review.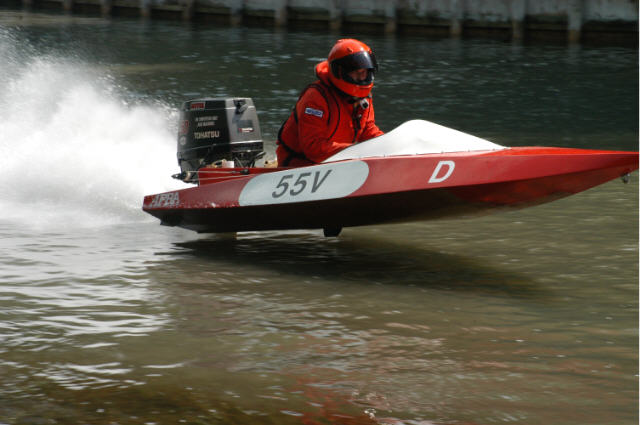 Here I am driving into the Indian River.
I discovered after Saturday's race that a little setup snafu had left my engine kicked out a BUNCH! Shortly after the start of the race, I could tell that the boat was handling like crap! The only thing I could do was to relax, don't push it, and just finish the day's race.
_________________________________
My biggest heartstopping moment:
Just before the start of Sundays race, Mike Ross leaned into my cockpit. He gestured across the lake and said: "You see the lake is pretty smooth. But, there's pleasure boats out there stirring things up. Watch out for big rollers going across the lake!"
The race started out much like the day before. Except today, we drove straight across Burt lake for about 2 miles to a turn buoy at the other side of the lake. As we raced across the lake, I looked around me. All these fast marathoners that I look up to so much, and I was right in there with the best of them! What a thrill! I looked down at my left hand and saw the great big set of donkey ears I was holding. I had a lot of throttle left! The boat was handling much better today. So, I gave it a squeeze. The boat responded nicely! Instantly, I could see that I was catching up with the leaders ahead of me! I began to think to myself arrogantly: "When I get out front, am I gonna know my way through the race course?"
Just then I hit some of those rollers Mike warned me about! I didn't even see them coming! The boat jolted to the right, and thru me to the left. I thought I was going for a swim! My hand came off the throttle and into the water. My chest hit the deck. Somehow I stayed in the boat. Remarkably, I was able to get back on the throttle before the engine stalled. I was ok, I made it. But, I slowed down and stopped outdriving my skills.
I was just given a little driving lesson courtesy of Burt Lake.
_______________________
After Sunday's leg of the Marathon, Everyboby got together for the awards banquet. It was great to see everbody getting the recognition they deserved from this fantastic event.
The top four finishers in each class were awarded a really nice plaque that included their race photo.
Everyone who finished both days of the race but did not place in the top four, was awarded a medallion for their achievment.
In the photo below,
that's the Indian River in the background.
We raced past here just hours before!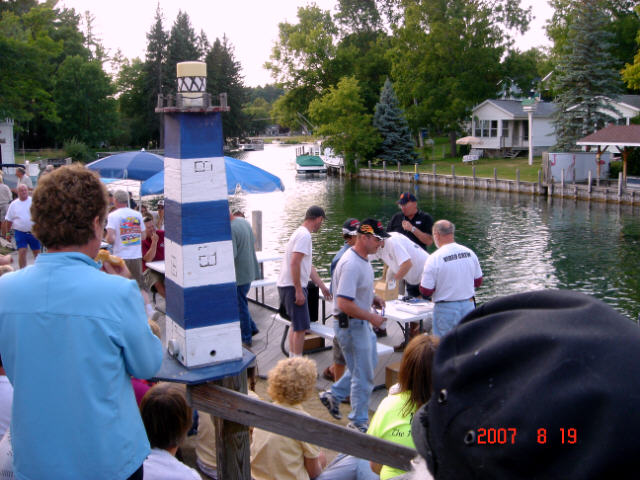 There I am recieving my hard fought medallion.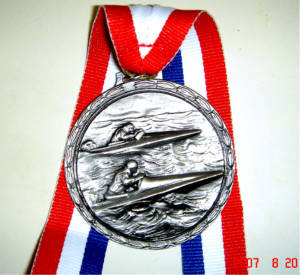 I plan to put my medallion into a nice lighted case.
My wife thinks I'm a dork when I consider putting it on a revloving pedestal!
Hey, I worked hard for this little medallion!
It might not be a big deal to some folks. But to me it represents my highest racing acheivment.
I couldn't have done this event without
the love and support of my family.
I'm also indebted to my
"racing family"
of friends and fellow competitors
who encouraged me and helped
me to "git 'er done!"
THANK YOU ALL!
_______________________________________
I recommend this race to anybody with an urge to challenge themeslves and their equipment. This race was the most exciting thing I've ever done in my life! I hope to do this next year, and the next year, and the next, etc, etc...
______________________
Tohatsu for Competition
by
Bass Machines
(360) 373-3839