When I was a youngster, my dad built me a little wood runabout called a "Yellow Jacket". He got the plans from a Popular Mechanics magazine.
Below is a picture of a Yellow Jacket from that magazine article. I can't find any pictures of my own Yellow Jacket, so I was thrilled to find this article again!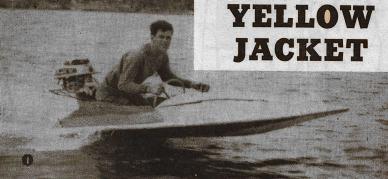 When I started out in the 'J' class I used an old "Martin" motor. Just like the one in the picture above. In the following years I played around with some small "Champion" motors too. But I never won any 'J' races 'till I started running a Merc KE-4.
After I outgrew the 'J' class, all those old motors were converted back to original condition and sold to fishermen.
If you are looking for old boat plans. Here is where I found my long lost Yellow Jacket plans. There are many other old plans at this site also. Click the link below to check it out.
_________________________________________________________________
Tohatsu for Competition
by
Bass Machines
(360) 373-3839